Results
The COLLECTORS project aims at providing guidelines for the organisations in charge of planning and implementing municipal waste collection for paper and packaging waste, WEEE, and construction and demolition waste: local and regional authorities, and producer responsibility organisations.
To develop evidence-based guidelines, the consortium decided to adopt the following approach:
Document as many municipal waste collection systems, including various types of countries, locations, contexts, and levels of performances;
Identify relevant case studies addressing specific local challenges and presenting interesting performances, and document their performances in terms of quality of sorted materials, economic and environmental performances;
Following a cross-analysis of the case studies, provide guidelines for decision makers on effective instruments to optimise waste collection systems, priorities in terms of environmental and economic outcomes, and positive impacts of ambitious waste strategies.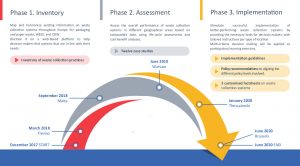 The first step of the project was the collection of information on 242 waste collection systems, following a common framework defined in collaboration with representatives from different European cities and regions across Europe during the project's first Regional Working Group meeting. The collected data were brought together in three database, focusing on the three waste fractions covered by the project. The data will be presented in an upcoming webplatform.
Find out more on the inventory of waste practices here.
Following the data collection, analysis were performed to identify relevant case studies, taking into consideration both specific local contexts (tourism activity, local GDP…) and the performances of the collection systems (capture rates…). The parameters to be taken into considerations for the selection were discussed and validated through a second Regional Working Group meeting, using the Multi-Criteria Decision Making approach.
The selected case studies were then further investigated in order to highlight their performances in terms of quality of sorted materials, environmental impact, economic balance, and public participation.
Find out more on the selection and analysis of case studies here.
The last step of the project is to make the results and outcomes available for decision-makers from local and regional authorities, producer responsibility organisations, and national and EU institutions. This will take the form of practical guidelines highlighting effective practices and instruments leading to high quality recycling, how to overcome local specific challenges, and what environmental and economic benefits can be obtained by improving the waste collection systems. Policy recommendations targeting the EU institutions and national authorities will be also proposed, in order to highlight the possibilities to improve the EU and national frameworks to promote ambitious local waste strategies.
Find out more on the guidelines for implementation here.