In order to promote knowledge sharing, leverage on other projects' experiences and results, avoid duplication and maximise the impact of COLLECTORS, we have identified over 100 related EU-projects. This enabled us to build upon prior research, include relevant waste collection systems in our database, provide us with experts for our expert panel at various moments in the project, and lastly led us to several recently started EU-projects to cluster with and facilitate capitalization on our project results. The involvement of and lessons from these projects have been vital in COLLECTORS success. An overview of the most important clustering projects is presented below.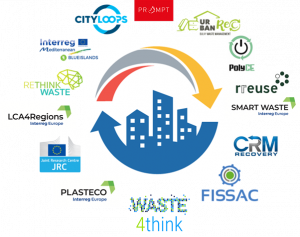 Prompt: WEEE, durability of EEE – https://prompt-project.eu/
Urbanrec : CDW, Eco-innovative and integral bulky waste management system (enhancing prevention and reuse) – https://urbanrec-project.eu/
PolyCE: WEEE, transforming the lifecycle of e-plastic materials into a more sustainable one – https://www.polyce-project.eu/
RReuse: Waste, reuse, repair and recycling – https://www.rreuse.org/
Smart waste: Waste policy, smarter, more effective, sustainable, and cost-efficient waste management, benefiting all territorial stakeholders – https://www.interregeurope.eu/smartwaste/
CRM Recovery: WEEE, demonstrate viable approaches to increase the recovery of target critical raw materials (CRMs) from WEEE by 5% by 2020 – http://www.criticalrawmaterialrecovery.eu/
FISSAC: CDW, developing a methodology, and software platform to facilitate information exchange, that can support industrial symbiosis networks – https://fissacproject.eu/en/
Waste4think: Waste, improvement of all waste management stages, adopting a global approach and particularly focusing on citizen participation in order to build more sustainable, eco-friendly cities – https://waste4think.eu/
Plasteco: Policy, plastics, developing action plans for curbing plastic waste and littering  – https://www.interregeurope.eu/plasteco/
LCA4Regions: Policy, waste, more effective implementation of environmental policy instruments by the application of Life Cycle Methodologies – https://www.interregeurope.eu/lca4regions/
RethinkWaste: researching, developing and testing KAYT and PAYT methodologies  – https://www.rethinkwaste.eu/
Blueislands: Waste, tourism, policy, identify, address and mitigate the effects of the seasonal variation of waste generation on Mediterranean islands as an effect of tourism – https://blueislands.interreg-med.eu/
Cityloops: CDW, Boosting the circularity of organic and construction and demolition waste – https://cordis.europa.eu/project/id/821033
The identification, mapping and selection of relevant projects started already at the beginning of the COLLECTORS project, and was updated throughout its course. The methodology, scope and results are discussed in COLLECTORS deliverable 6.1 Find out more on the identification, mapping and selection of EU-projects here.
At the end of the COLLECTORS project, multiple other EU-projects have been selected and approached for clustering purposes. In order to maximise the impact of the tools and knowledge developed within COLLECTORS, various clustering sessions have been held with the main objective to enable these projects to use the COLLECTORS results to their full potential. Find out more on the clustering approach and knowledge sharing between COLLECTORS and six other projects here.