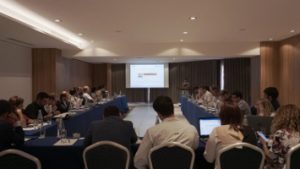 The aim of the COLLECTORS project is to identify and highlight good practices on the collection and sorting of packaging and paper waste (PPW), waste electrical and electronic equipment (WEEE) and construction and demolition waste (CDW). As part of the project, a database that includes information on 242 waste collection systems operating in different regions in Europe has been collected. The database includes information of systems currently in place for collecting PPW, Waste WEEE and CDW from mainly private households and similar sources.
During the working sessions held in Malta in September 2018, several European public authorities members of the Regional Working Group, together with the local experts and project partners, discussed the criteria that should be used for identifying good practices from the database, for instance the most relevant indicators that allows the identification of a well-performing system (such as capture rate…). Methods of multicriteria decision-making (MCDM) were applied for organising the data and collecting the feedback from the participants in a structured way. In addition to gathering feedback for the case study selection, the aim of the sessions was to exchange views on the importance of local characteristics for defining good practices in a specific context. The objective was to identify local contexts for which the identification of good practices is relevant, such as dense or remote areas, touristic cities… Altogether, close to 30 persons representing different European cities and regions participated in the three decision-making sessions that focused on each of the studied waste streams.
The discussions held during the MCDM sessions clearly highlighted the challenges in comparing systems operating in different local conditions. One of the main challenges relates to available data and how it should be interpreted. Indeed, methods used to calculate many of the indicators that would be of interest for the comparison are often different. However, discussions also indicated that there is an interest and need for sharing information on different systems and how they are operating, even though their comparison can be complicated.
Next, the project will have a closer look at 12 regions as examples of good performance in different regional conditions. Feedback collected during the Malta meeting will be used as a guidance for the selection process. In addition, cooperation and data exchange with local authorities and organisations responsible for waste collection will be important for successful and insightful case studies. Currently, the project partners are in the process of contacting potential regions for the case study phase.