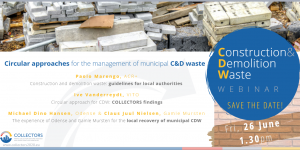 The end of COLLECTORS project is coming… it is really time to reap the rewards of the work we have done so far! We gathered new approaches for a proper separate collection of waste, which is essential to guarantee the finest material recovery. With the aim to encourage decision-makers and to boost the replication of good practices, COLLECTORS is sharing its outcomes in a series of three webinars where each session is meant to focus on a different waste stream covered by the project.
After having discovered more on Paper and Packaging Waste (PPW) collection and sorting and Waste Electrical and Electronic Equipment (WEEE) (click on the links to watch the recordings!), this time we move into Construction and Demolition Waste (CDW).
Our consortium is glad to announce the long-awaited third and last webinar "Circular approaches for the management of municipal construction and demolition waste".
CDW is a large source of secondary raw materials, consisting roughly out of wood, masonry, drywall, roofing, plastics, and metals. It has a strong potential for recycling and re-use because of the high value of some of the materials (e.g. metals), and the large market for re-use and recycled materials.
The webinar will highlight the relevancy of properly managing specific CDW fractions in a circular economy perspective at municipal level.
Learn from our experts:
Paolo Marengo, ACR+
Construction and demolition waste: guidelines for local authorities
Ive Vanderreydt, VITO
Circular approach for CDW: COLLECTORS findings
Michael Dino Hansen, Odense & Claus Juul Nielsen, Gamle Mursten
The experience of Odense and Gamle Mursten for the local recovery of municipal CDW
Join us to say goodbye to COLLECTORS!
Don't miss this last event! Join us on 26 June at 13:30 CET!
Make sure you register in advance here