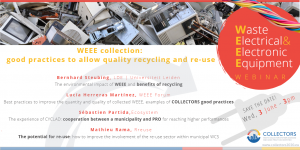 COLLECTORS is coming towards the end… it is now time to harvest – and share! – the fruits of this important labour. We have been working hard on gathering new approaches for a proper separate collection of waste, which is necessary to ensure the finest material recovery.
In order to encourage decision-makers as best as possible and to boost the replication of good practices, COLLECTORS is sharing its outcomes in a series of three webinars where each session is meant to focus on a different waste stream covered by the project.
Our consortium is happy to announce the much-anticipated second webinar! After having explored the economic aspects of paper and packaging waste collection and sorting, this time we will turn our attention to Waste Electrical and Electronic Equipment.
Around 10 million tonnes of WEEE is produced every year in the EU. A meagre 35% of electrical and electronic equipment wound up in official collection and recycling systems. The other discarded electronics are either recycled under non-compliant conditions, illegally traded, exported, or simply thrown in residual waste bins. WEEE contains many high-value and critical raw materials.
Through the next webinar "WEEE collection: good practices to allow quality recycling and re-use" our experts will highlight the importance of improving the quantity and quality of collected WEEE to ensure its proper recycling from different perspectives, with an emphasis on the potential for reuse, and how to include the re-use organisation in the design of WEEE.
If you are also wondering how to improve quality recycling and re-use of WEEE, join us to learn from our experts!
The environmental impact of WEEE and benefits of recycling 
Bernhard Steubing, LDE | Universiteit Leiden
Best practices to improve the quantity and quality of collected WEEE, examples of COLLECTORS good practices
Lucía Herreras Martínez, WEEE Forum
The experience of CYCLAD: cooperation between a municipality and PRO for reaching higher performances
Sébastien Partida, ecosystem
The potential for re-use: how to improve the involvement of the re-use sector within municipal WCS
Mathieu Rama, Rreuse
Don't miss this event! Join us on 3 June at 15:00 CET!
Make sure you register in advance here.
Meet the speakers

: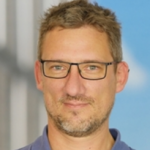 Bernhard Steubing has worked in the field of industrial ecology since 2007. During his Ph.D. at EPFL and Empa he used life cycle assessment (LCA) and agent based modeling to assess the availability of biomass and its optimal use for bioenergy. From 2012 to 2015 Bernhard worked at ETH Zurich as a postdoc and later as a senior researcher. Through his work in the ecoinvent expert group, Bernhard was actively involved in the development of ecoinvent version 3. In 2015 Bernhard joined CML as a tenure-track assistant professor.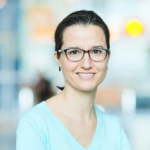 Lucía Herreras Martínez has worked for the WEEE sector as a consultant and auditor since 2003. In 2013, she joined the WEEE Forum and she is currently Deputy Director General of the organisation. The WEEE Forum is an international association of e-waste extended responsibility organisations counting 40 members in more than 28 countries. The WEEE Forum participates in key projects and actively contributes to the international debate on the management of WEEE.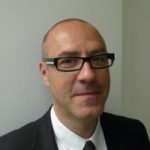 Sébastien Partida, Sebastien Partida is the deputy director for waste collection at ecosystem, one of the French extended producers responsibility organisations in charge of the management of WEEE.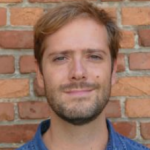 Mathieu Rama is a Senior Policy Officer representing RREUSE, the network of European social enterprises active in re-use repair and recycling. He has been involved for 5 years in the development of circular economy policies (waste and products) and pushed for WEEE collection and prevention models that prioritise re-use and preparing for re-use over premature recycling or incineration.