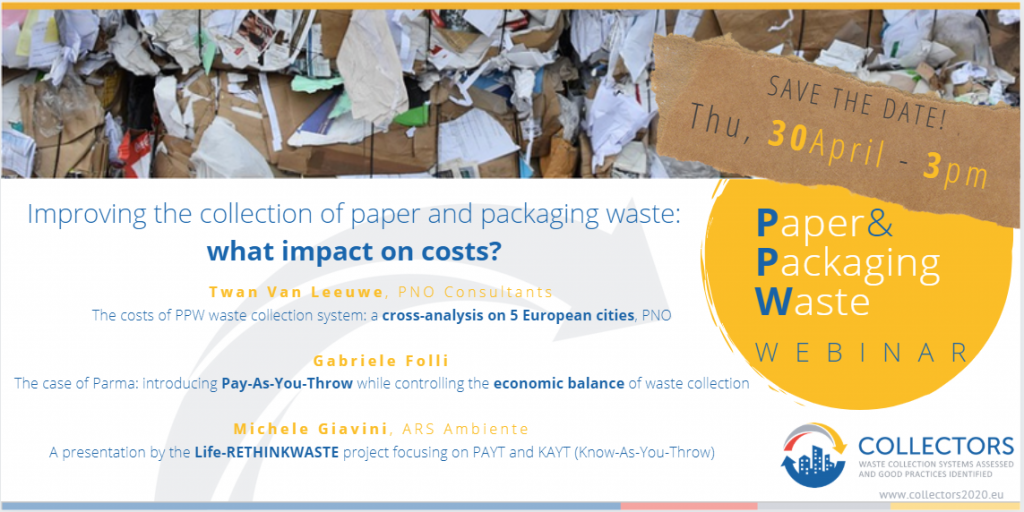 The webinar showcased COLLECTORS' work performing cost and benefit analyses of several case studies to illustrate how improving the performance of PPW waste sorting impacts the cost-benefit balance of waste collection systems. The webinar addressed the following question: can the selective collection be improved without increasing neither the general cost of the collection system, nor the waste fee for citizens?
The costs of PPW waste collection system: a cross-analysis of 5 European cities | Twan Van Leeuwen, PNO Consultants
Twan van Leeuwen shared insights from his research into the paper and packaging waste collection systems in Parma (Italy), Berlin, Rennes (France), Ghent (Belgium), and Tubbergen (the Netherlands). His conclusions were that the financial performance of pay-as-you-throw (PAYT) schemes for paper and packaging waste were supported by a number of policies at the national level, such as the existence of extended producer responsibility (EPR) schemes, landfill and incineration taxes, and landfill bans; that the costs of improving waste collection didn't necessarily have to translate into increased waste fees for residents; and that operating a PAYT-based collection system increases costs for municipal waste companies, but that the revenues for such companies also increase.
His presentation can be viewed here.
The case of Parma: introducing Pay-As-You-Throw (PAYT) while controlling the economic balance of waste collection | Gabriele Folli
Gabriele Folli, former deputy mayor of the city of Parma, spoke about how the municipality managed to lower the average waste fees for its residents while increasing separate waste collection to over 81%.
His presentation is available for download here.
A presentation by the Life-RETHINKWASTE project focusing on PAYT and KAYT (Know-As-You-Throw) | Michele Giavini, ARS Ambiente
Michele Giavini of ARS Ambiente discussed the importance of information and awareness to improve the performance of waste collection systems, while zomming into the case of the Italian municipality of Seveso. A technique that Michele has introduced, know as you throw (KAYT), is increasingly being used to complement taxes (like PAYT schemes) with ongoing, bespoke feedback about residents' behaviour surrounding waste. KAYT is currently being piloted in three Italian and one Catalan municipalities under the LIFE REthinkWASTE project.
His presentation can be accessed here.
Watch the full recording of the webinar here.