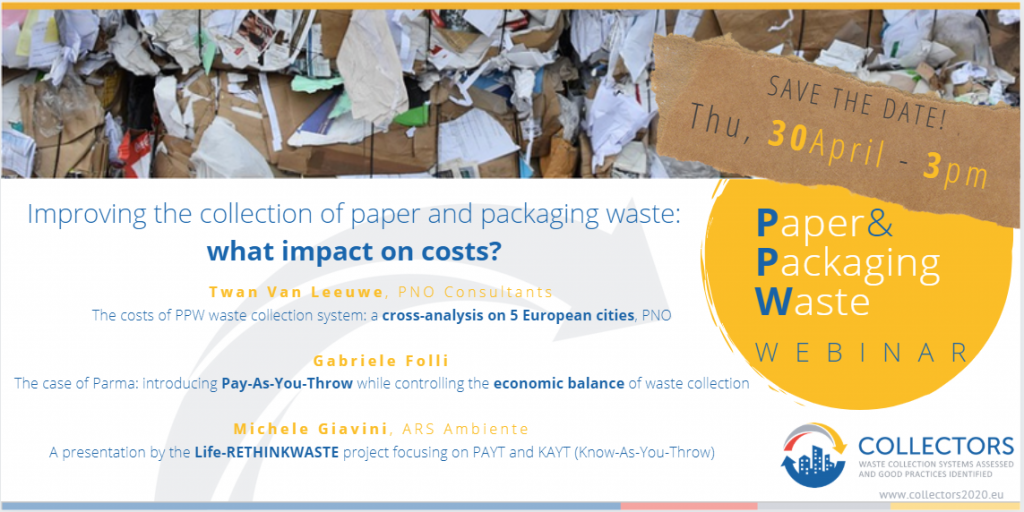 COLLECTORS is entering its final phase. But before we wrap up this fruitful project, our consortium is happy to announce the first in a series of three webinars that will summarise our findings. Throughout these three online events, we will highlight innovative approaches to waste collection systems. Each session will be devoted to a different waste stream covered by the COLLECTORS project, with a focus on a specific topic.
The first webinar will be very soon, don't miss it! Join us on 30 April at 15:00 CET to discover more about the economic aspects of Paper and Packaging Waste (PPW) collection and sorting.
The webinar will showcase COLLECTORS' work performing cost and benefit analyses of several case studies to illustrate how improving the performance of PPW waste sorting impacts the cost-benefit balance of waste collection systems. The webinar will address the following question: can the selective collection be improved without increasing neither the general cost of the collection system, nor the waste fee for citizens?
If you're also wondering how investing in improving the collection system can positively impact costs, join us to learn from our experts:
Twan Van Leeuwen, PNO Consultants
The costs of PPW waste collection system: a cross-analysis of 5 European cities
Gabriele Folli
The case of Parma: introducing Pay-As-You-Throw (PAYT) while controlling the economic balance of waste collection
Michele Giavini, ARS Ambiente
A presentation by the Life-RETHINKWASTE project focusing on PAYT and KAYT (Know-As-You-Throw)
Make sure to register in advance here.