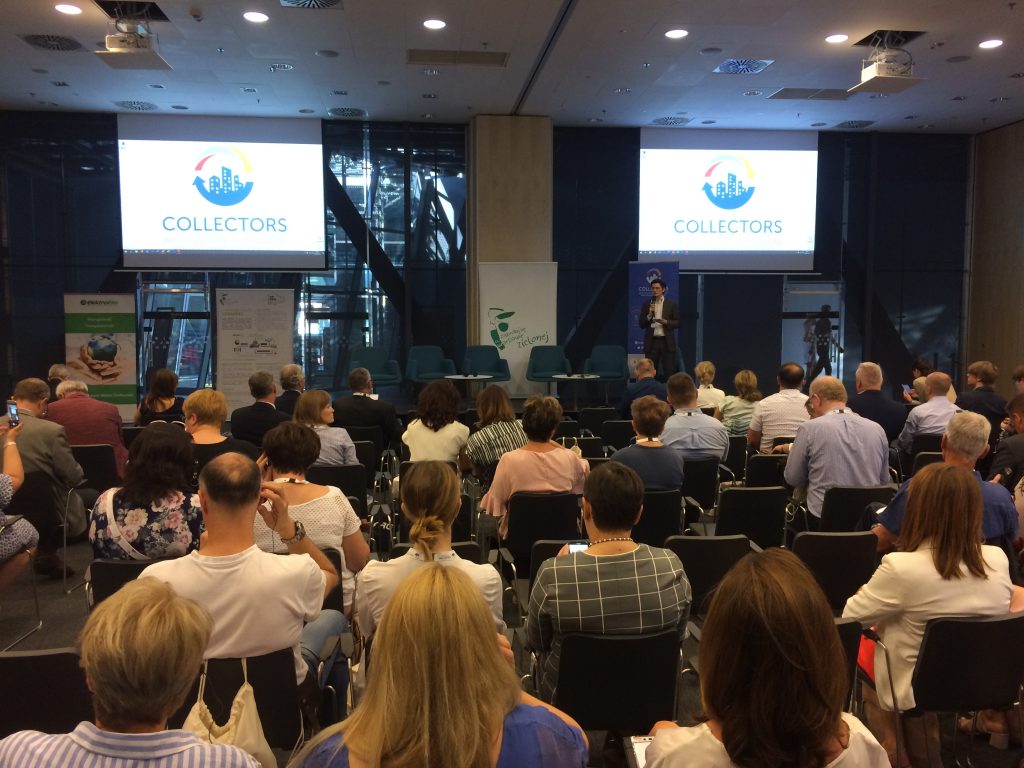 On 26 June 2019, COLLECTORS, together with the City of Warsaw, co-organised a public conference on the topic of public participation in and social acceptance of new waste collection systems. The event was open to the public and fully booked, gathering almost 120 representatives of different European regions and cities, along with Polish municipalities and waste experts.
The speakers, who also hailed from different countries and regions, sought to answer the following question: how can residents' participation in waste collection be insured and how can their involvement result in the sorting of high-quality materials? During three panels discussions that looked at vertical housing, collection systems, and incentives, speakers agreed on the fact that the involvement of residents is achievable through a combination of instruments. The latter need to provide proper and clear information on the sorting guidelines, convenient collection modes adapted to the typology of the housing in the area and incentives to adopt the right behaviour.
For example, John Egil Nilssen from the City of Oslo (Norway) explained how visiting the residents of areas where waste performances are poor is a good opportunity to provide clear and adapted information and messages. Adam Musiała from the City of Bydgoszcz (Poland) elaborated on the participatory approach developed by the municipality to involve citizens in the organisation of waste collection and the definition of fees. Ursula Bekhuis, an elected representative of the City of Tubbergen (the Netherlands), talked about the introduction of a pay-as-you-throw scheme in the municipality, which led to the reduction of residual waste quantities from 200 to 70 kg/capita in only one year concurrently with the decrease in the waste tax per household.
During the discussions, Emmanuel Katrakis from EuRIC voiced the concerns of recyclers by reminding participants about the requirements for quality recycling: the importance of quality sorting through source separation of materials, the need for harmonised quality standards, but also the necessity for a better design of products that would make them more easily recyclable.
To conclude the vent, Michał Olszewski, the Deputy Mayor of City of Warsaw, highlighted the necessity to improve the resilience of European cities through circular economy.
The different presentations given at the conference are available on the COLLECTORS website. The next COLLECTORS conference will be held on 11 December 2019 in Thessaloniki, Greece.