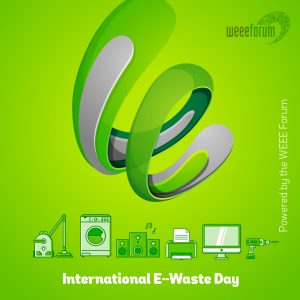 After a successful first edition on October 13, 2018, WEEE Forum will organise the International E-Waste Day (IEWD), the organisation announced earlier this year. In 2019, the event will be celebrated on Monday, October 14.
Supported by 40 organisations in 20 different countries, IEWD is meant to raise the public profile of e-waste and encourage consumers to correctly dispose of this waste fraction in order to enhance the re-use and recycling rates for it. WEEE Forum members will be leading the activities in their respective countries and external companies have been invited to join the initiative.
Some of the awareness raising actions that were organized as part of IEWD in 2018 included conferences, school and city collections, promotions in stores and recycling centres and the publication of an online guide about how to dispose properly of e-waste.
The EU is a frontrunner in the recycling of WEEE globally but, even so, less than 35% of this fraction is officially reported as being properly collected and treated. Part of the problem, according to WEEE Forum President Jan Vlak, are illegal practices, such as scavenging, which lead to the loss of valuable raw materials. WEEE Forum has advocated that the incoming European Commission make the standard for the treatment of WEEE legally mandatory across the bloc in order to ensure a level playing field.
Source: WEEE Forum