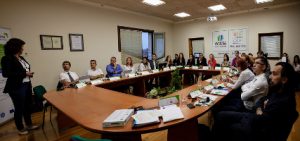 In recent years, technology and innovation have reached the field of waste. They offer an excellent opportunity to improve policies aiming to minimise waste generation and reach resource efficiency. However, the degree of introduction of innovative equipment and practices varies significantly from one territory to another. This is why WINPOL, a new Interreg Europe project, has just been launched. It gathers European cities and regions committed to mainstream the use of intelligent equipment and related waste management policies on their territories and beyond.
The kick-off meeting of the project WINPOL – Waste Management Intelligent Systems and Policies – took place in Gijón on 5-6 September 2018, hosted by EMULSA, the municipal company of urban environment services of Gijón and lead partner of WINPOL. The project consortium of this Interreg Europe funded project also includes Mehedinti County Council and Drobeta Turnu Severin City Hall (Romania), SNAGA – the company for waste management and other utility services of Maribor (Slovenia), the Municipality of Heraklion and the Region of Crete (Greece), ERA – the Environment Resources Authority of Malta, the City of Antwerp (Belgium), as well as ACR+ – the Association of Cities and Regions for sustainable Resource Management as advisory partner.
These 9 partners will join forces during 54 months to improve regional and local waste management policies by promoting intelligent equipment and innovative planning derived from it. They will do so in two different phases. During the phase of "Interregional Learning" they will identify good practices, exchange experiences and elaborate action plans on the transfer of good practices and experiences on their territories. All good practices identified will be compiled in a handbook, available to all. Several study visits are foreseen during this first phase to understand the situation on the partner territories and to discover good practices from other cities, namely Bergen (Norway) and Ghent (Belgium). The second phase, "Monitoring of the Action Plan Implementation", will focus on the implementation of the action plans produced with the aim of improving partners' policy instruments.
Discover more on WINPOL by visiting www.interregeurope.eu/winpol
Read the full press release.