The COLLECTORS Consortium has finalised the agenda for the upcoming project conference in Thessaloniki, Greece. Taking place on 11 December, the event will be graced by the presence of over a dozen municipal solid waste (MSW) experts and practitioners.
A representative of the host city, which is also a co-organiser together with the LIFE ReWEEE project, will give the welcoming speech. Subsequently, three presentations followed by panels will take place during the day on three distinct topics, under the umbrella of the overarching theme — the role of MSW in the circular economy and strategies for reaching high quality recycling.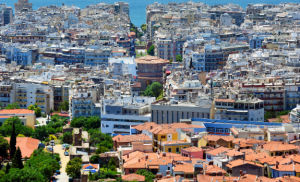 Topic 1: Why do we need to move forward with waste management? 
The discussion will revolve around the current challenges and opportunities related to waste management in Europe and in Greece specifically. After an introduction by Bernhard Steubing from COLLECTORS partner LDE and Twan van Leeuwen from PNO Consultants, a panel comprising Rozy Charitopoulou, Head of Unit Recycling Department at the Hellenic Recycling Agency and Michalis Geranis, President of the regional FODSA Central Macedonia, will take the stage.
Topic 2: Improving waste management practices – challenges and good practices on WEEE and paper and packaging waste 
This section of the conference will focus on the challenges facing local actors in the implementation of waste collection systems; the lessons that can be learned regarding good practices in Europe; and improving the performance of Extended Producer Responsibility schemes.
Following  a presentation by Kevin Le Blevennec from COLLECTORS partner VITO, a panel made up of the below representatives will discuss the topic:
Dimitris Papasotiriou, Head of Marketing & Communication with the Local Authorities, Hellenic Recovery Recycling Corporation (HERRCO)
Haris Angelakopoulos, Technical & Environmental Manager, Appliances Recycling SA
Eifion Williams, Circular Economy Wales CIC
Liliana Nichita, Federation of Intercommunity Development Associations, Romania
Topic 3: Waste collection toward the circular economy
The discussion will look at the current limitations of waste collection systems in the transition to the circular economy, as well as how to better align waste collection systems with the standards of reuse organisations and recyclers?After a keynote speech by Dirk Nelen from Vito, a panel made up of the experts below will debate the topic:
Manolis Grafakos, General Secretary Waste Management, Ministry of Environment & Energy
Vassilis Komninos, President Applia Hellas, Managing Director Delonghi Kenwood Hellas
Haris Angelakopoulos, Technical & Environmental Manager, Appliances Recycling SA
PolyCE project (TBC)
The event will conclude with a repair cafe organised by the ReWEEE project.