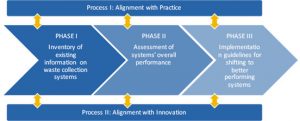 After some months of waiting and preparing, we could officially start with the project in December 2017. The first phase will focus on an inventory of existing information on waste collection systems.
After all, much valuable information on waste collection systems is already available. European, national and regional studies have already provided insight into the characteristics and performance of different systems. This information, however, is currently widely dispersed and not harmonized. COLLECTORS will try to bring this together in an inventory and share it with its stakeholders. At present, we have collected approximately 300 literature sources that will be analysed for the database. We are of course planning to share this literature overview on our website later in the project.
In addition to the focus on the inventory, we have worked hard to inform as many stakeholders as possible about our project. We have organized our first advisory board meeting and have attended events such as the Circular Economy Stakeholder Conference. The website of the project has been constructed and our social media accounts have been established on both LinkedIn and Twitter . A key milestone in the first months of the project was the organization of the Treviso conference. Hosted by Contarina – the waste management company of Treviso – we had three days of interactions with citizens, local and regional authorities, and experts. Information and presentations on the conference can be found on our website.
The Treviso conference provided us with the information and inspiration for the coming months. We will continue with our inventory; whereby we will shift the focus towards the actual screening of the identified waste collection systems. In addition, we will start the preparation work for the second project phase, i.e. the assessment phase. A generic analysis will be performed to identify the main challenges and boundary conditions for implementing better performing collection systems. The interaction with stakeholders will continue to be a key aspect of the work in the coming months. We will work hard to prepare a second conference that will produce the same positive interactions as in Treviso. This meeting will take place in Malta – and you are of course welcome to join!