Brief context
The COVID-19 pandemic has already had tremendous impacts on the waste sector. At first, while the pandemic was progressing and lockdowns imposed in many countries, public authorities and municipal waste operators had to rapidly adapt their waste management systems and procedures to the situation. This was in particular reflected in the waste collection. Often manpower and resources had to be reallocated to guarantee this essential service. For this, priorities were set on specific waste fractions for example first guaranteeing the collection of residual waste and/or bio-waste. On the contrary, civic amenity sites – which were not considered a priority – have been closed in most of the territories, the collection of textile waste or glass through a bring-bank system have been interrupted…
During this so-called first phase, project partner ACR+ mapped how public authorities in Europe and beyond reacted and adapted their waste management systems. The main observed trends are summarised in the infographic below: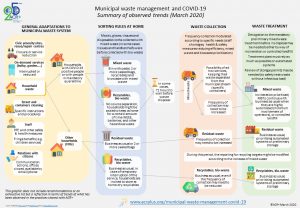 After the progressive ease of lockdown or other restrictive measures, a second phase started and new challenges appear. Public authorities and municipal waste operators do not have to act to face an urgent situation but they have to deal with the impacts of the different measures of the so-called first phase and with the necessity to re-assess the situation. Adaptation is needed once more, this time to search for stabilized operation. The crisis also moves along the value chain reaching new actors such as recyclers.
As it did during the first phase, ACR+ is gathering data on the situation in different countries to monitor the effect of the COVID-19 pandemic on different waste management systems. The aim is to gather and exchange practices, being aware that situations are diverse and dependent on the national and local constraints as well as means available.
To feed this initiative a survey on the impact of the COVID-19 pandemic on municipal waste systems has been launched, targeting municipal and local authorities or their waste operator.